Accounting Certifications And Designations
Looking For Specialized Accounting Certification Programs?
Accounting is a highly competitive field. Obtaining an Accounting Certification or Professional Accounting Designation could increase ones marketability and help set individuals apart from others. But not all accounting designations are alike.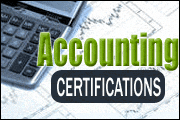 The accounting certificate program you're seeking if you're trying to learn how to become a public accountant differs from the one you'd seek if you were interested in being a financial planner — which differs from the accountant certification you'd need as an enrolled agent.
Furthermore, each of these accounting certifications requires satisfactory completion of different types of accounting exams, so you'll have to be sure to study the material relevant to the particular designation you want in order to get the certification you desire. Fortunately, the CPA Training Center is equipped with a wide range of professional accounting certification courses to meet your needs no matter which Accounting Designation you seek.
By obtaining an Accounting Designation, individuals are proving to potential and/or current employers that they have the commitment and have put forth the extra effort to succeed in one's chosen Accounting profession. And the CPA Training Center offers some of the best online accounting certificate programs
See below for a list of accounting certification trainings that the CPA Training Center has available, and click on the designation you're interested in to find out how to sign up for a training near you.
Accounting Certifications / Professional Accounting Designations
An Accounting Certification is an excellent way to both improve your job skills and your earning potential. To fit your preferred learning style, we offer in-person, online, and self-study accounting certificate programs.
Below are a few of our most-popular Accounting Certifications - including several of the best online accounting certificate programs; simply click on a course title or image to see more details or to order that Accounting Certification.
Prepare For Your Accounting Designation Certification The Right Way With The CPA Training Center
No matter which accounting designations you're seeking, the way to prepare for your accounting certification exam is with a CPA Training Center. Our proven training materials and study methods can provide you with everything you need to pass your accounting certification exam the first time.
At the CPA Training Center, we tailor our study options to the way you learn best. That means we can provide you with scheduled live classes, online instruction or self-study materials. This way, whether you learn best through direct interaction with qualified instructors, by learning digitally from home at your own pace or by creating your own study structure, we can accommodate you.
Our instructors are extremely knowledgeable in the world of accounting and highly skilled at communicating the important information you need to know to pass your accounting exam. To find the study materials you need, click the link to the accounting certification you're seeking above, or find seminars in your state by selecting your preferred designation and location in the fields below. Get started on the road to your accounting certification by finding your training now!
Find Seminars, Webinars, And Online Training In Your Area
What Are The Best Accounting Certification Programs
The best accounting certificate programs cover a wide range of student needs and goals. Typically, students start with auditing, taxation, and accounting certification programs because these skills are broadly needed and are the easiest for which to train.

Once these basic skills are mastered, students often seek training for more advance accounting certificate programs on topic like: