CPA Exam Review Courses, Materials, And Study Guides
How To Pass The CPA Exam With Our CPA Courses And Exam Review Products!
We understand the CPA exam is difficult, but The CPA Training Center can assist you in preparing for and passing the CPA exam.
Why Get A CPA Certification
CPAs are many things. They are chief financial officers for Fortune 500 companies and advisors to small neighborhood businesses. They work for public accounting firms, both small and large. They are well-respected strategic business advisors and decision-makers. They act as consultants on many issues, including taxes and accounting.
A CPA, or Certified Public Accountant, is a trusted financial advisor who helps individuals, businesses, and other organizations plan and reach their financial goals. Whatever those goals-saving for a new home, opening a new office, or planning a multi-billion dollar merger-CPAs can help.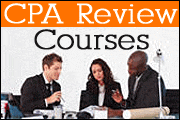 CPA Exam Requirements
CPATrainingCenter.com provides accountants who are preparing to become a Certified Public Accountant (CPA) with the resources and training material available to succeed on their Certified Public Accountant Examination (CPA Exam).
The CPA exam (officially the "Uniform Certified Public Accountant Examination"), comes in four sections: Auditing and Attestation (AUD), Business Environment and Concepts (BEC), Financial Accounting and Reporting (FAR), and Regulation (REG).
To take the CPA Examination, candidates must apply to the boards of accountancy from which they seek the CPA credential (generally, your state). Application forms and information about CPA exam requirements may be obtained from the boards of accountancy.
What Is The Best CPA Exam Review Course? What Is The Best CPA Exam Prep Course?
Several organizations offer high-quality CPA exam prep courses, so you'll probably want to look at which course offering best meets your learning style (seminar, webinar, On-Demand, or self-study). You'll obiously want to compare prices, but we suggest you go with the CPA exam prep course that offers the most practice exams.
Regarding pricing, you should consider whether to purchase one course at a time or a package that contains CPA exam prep materials for all four sections. Though the former may be easier on your pocketbook, the latter is less expensive.
Recommended CPA Exam Review Courses And Exam Prep Materials
To find some great CPA review courses and CPA exam prep materials for passing your CPA exam, either select from the Recommended Course list below, or search under "Designations/Certifications" for "CPA - Certified Public Accountant". Good luck on your CPA exam!
Find Seminars, Webinars, And Online Training In Your Area
How To Study For The CPA Exam
At CPA Training Center, we know there's more than one way to study for an exam. The best CPA study materials and methods for you may not work as well for someone else. While many people have succeeded with live CPA exam classes, that may not be the best method for you. Many students study for their CPA exam for hundreds of hours before taking the test, and we want you to get as much from your CPA course training as possible. Even the best CPA exam review courses won't help you if they're presented in a way that doesn't fit your learning style.
That's why we offer two other highly effective ways for you to get and absorb the information you need to pass the CPA Exam: online CPA courses and self-study exam review materials.
About Our CPA Exam Review Courses
Online Training Courses
One of our most popular ways of preparing for the CPA exam is through CPA exam review courses online. We offer online CPA exam study materials for each of the four CPA tests or all four at once. These courses include both online and written material, so you can alternate between taking courses on your computer and absorbing CPA review books, flashcards and handouts in your home.
There are several reasons that online training is a great way to get ready for the CPA exam. One of the most important factors is being able to study at your own pace. You may be the type of learner who benefits from having an instructor teach you the material directly, but a live course can only go at one speed. If you're faster or slower than the average, it can interfere with your learning experience.
With an online course, you can stop, go back, move forward or start again as it suits you, without any effect on the instructor or anyone else who's benefitting from the lesson.
Online CPA courses are also perfect for those who have strict scheduling obligations. Many people who take the CPA exam are already working and looking for the CPA certification as a way to improve their job prospects and earning potential. Others may be stay-at-home parents preparing for the time when their children are old enough for them to head back out into the workforce. For these individuals and others like them, the opportunity to learn at home is the perfect way - and potentially the only way - to get the information they need.
Our self-study online review courses cover AUD, FAR, REG and BEC and are available 24 hours a day, seven days a week, so whether your free time occurs at 3 a.m. on Wednesday or 7 p.m. on Saturday, your CPA training course will be ready and waiting. Furthermore, you can access your instructor directly via e-mail, so anytime you have a question during the course, you can discuss it with the expert who has presented the material and get a quick answer. Study materials are available online for a full 24 months, so you'll have plenty of time to get ready and pass that exam!
The other great thing about our online training is that you can get so much more than just the courses. It starts with the OnDemand digital videos available 24/7, but those videos also come with a physical or electronic (your choice) study manual, containing plenty of examples, questions and guidelines for each section of the exam.
To further bolster your studying, the training course offers access to the CPA Proâ"¢ QBank. This tool is a repository of over 1,500 practice questions for you to test your skills. The questions cover a wide range of topics, lengths and difficulties, so you can create a personalized exam that targets your specific weaknesses. You can also take a provided mock exam designed to closely simulate the actual exam experience. Other features of the online training program include:
An interactive study calendar that you can use to pace yourself and prepare for the exam in your own unique way
A Performance Tracker that tracks your performance, tells you how you're doing relative to others and offers feedback
An audio review program for MP3 or streaming audio
CPA review flashcards so that you can do a quick study review anywhere, anytime
When you order your online CPA training course, you'll get access to the OnDemand videos instantly and receive the printed materials in three to five days by UPS at no added shipping cost.
Self-Study
While online learning can be a great alternative to live study for some, it is not for everybody. Some people may prefer a complete self-study package. Possible reasons include the following:
You are someone who's great at self-directed study and prefer to learn things your own way, without conforming to a set structure
You're an older student who is not as comfortable with digital communication and prefer to rely on more tried and true technologies like video and good old-fashioned books
You have limited bandwidth/available computer time in your home and wish to study while children are studying or spouses are working on the computers
Whatever your reason, the CPA Training Program is easily able to accommodate you with self-study packages that cover all four sections - AUD, BEC, FAR and REG — and include easy-to-use video lessons and printed study materials.
If this sounds like your type of study program, order our Lambers CPA Review Package. This package is an entirely self-study-based CPA review where you create the structure. It includes all you need to study to earn certification, with robust coverage of all the major concepts on the CPA certification exam.
You'll receive DVDs containing hours of classroom instruction broken up into digestible segments for all four exam sections. You're free to stop, go back or switch lessons at any time, whenever you want. You'll also get CPA Review textbooks for all sections in the form of printable PDF files, along with an auditing workbook that accompanies the auditing DVD.
It is easy to get started. Just choose your preferred study method below now to order the appropriate materials, and begin on your CPA study program whenever you like!
Planning Tips:
Determine the dates you wish to sit for the CPA exam

Decide whether to take all parts at once or one or two at a time

Apply to your board of accountancy

Select a CPA review course or CPA review materials

Take as many simulated exams as possible (available with most CPA exam review materials)

Start studying!
Once you've passed one part of the exam, you have 18 months to pass all four. You can take each exam section only once within a single window (two months out of every three constitute a window).
To Schedule a Test Date:
After the state board or its designee determines that a candidate is eligible to take specific sections of the CPA Examination, the candidate will receive a Notice to Schedule (NTS).
The NTS will remain valid for a period of time established by the state board. That means candidates have a set period of time from the date the NTS is issued to schedule and take the examination sections(s) for which they have applied.
Candidates with a valid NTS form can schedule test appointments online at www.prometric.com\cpa., or by calling 1-800-580-9648 (Candidate Services Call Center) or by contacting their local test center.
Candidates requiring special accommodations under the Americans with Disabilities Act, or for any other reason, should contact their board of accountancy for specific guidelines and procedures.