Excel Training For Accountants & CPAs: Excel Seminars, Webinars, And On-Demand Training Courses
Need Excel training? If so, we can help! CPATrainingCenter offers Excel training seminars, webinars, and on-demand training courses to help you to use this powerful tool.

You don't have to waste hours wading through thick manuals or sitting in classes for days fruitlessly punching keys in trial and error learning efforts — forget all that! Our Excel training classes will have you up and running in no time!

Dramatically Increase Your Productivity With Our Excel Training Courses!

By taking our Excel training courses, you can learn how to:
Format cells

Use formulas

Sort data

Utilize auto numbering

Insert and use charts and text

Simplify repetitive tasks

Create your own shortcuts

Skip the OK button within Excel's dialog boxes

Hide and unhide columns and rows by way of keyboard shortcuts

Add clickable icons for macros that you use regularly

Navigate large workbooks with ease by way of a hidden menu and keyboard shortcuts

Instantly display all formulas within a worksheet

Streamline redundant data entry

Double-check manual inputs with ease by having Excel read numbers aloud to you

Work with the "Freeze" feature...and much more!
Recommended Excel Training Courses
Excel Training Seminars
Excel Training Webinars

Each of these training sessions are taught by Excel expert David Ringstrom, CPA - who is also the Tech Editor-at-Large for AccountingWEB. Each training session drills down into the topic, giving you tons of tips and tricks to better-use your time and to avoid frustration.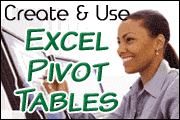 Find Other Excel Training Courses
To see other training courses, select "Computer Skills" and your state from the "Professional Development" section of the search box at the bottom of this page.