Audit Training Courses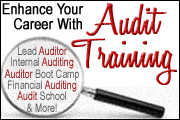 Searching For Audit Training Courses?
What Is An Auditor?
Auditors examine financial records and statements to determine the validity of information, and to check for fraud. They ensure that individuals, companies, and government agencies are compliant with tax laws.
As listed below, the CPA Training Center offers numerous audit training courses to help Auditors enhance their career while meeting company goals and exceeding expectations.
What Is An Audit?
An audit is a systematic and independent examination of books, accounts, statutory records, documents and vouchers of an organization to verify the financial statements and non-financial disclosures. An audit can apply to an entire organization or might be specific to a function, process, or production step, and might include an on-site verification, such as inspection or examination.
Types of audits include internal, external, forensic, public, tax, and information systems. Internal auditors typically examine issues related to company business practices and risks and are conducted throughout the year; external auditors typically perform a single annual audit, and should be independent of the entity being audited.
How Do I Become An Auditor? What Audit Training Classes Are Available?
Auditing is a specialty area of accounting that requires advanced training. First, the accountant should become a CPA. Next, the individual needs to determine the type of auditing he or she wants to perform. Last, you need to take the applicable audit training courses. Luckily, the CPATrainingCenter.com offers numerous audit training courses, as outlined below.
Our Featured Audit Training Courses
Below is a list of the audit training classes offered through the CPATrainingCenter. Simply click on the course title to see more details or to order your preferred audit training class.
Fundamentals Of Internal Auditing
If you are interested in becoming an auditor and protecting your company with internal audits, start with this internal auditing course. This course provides a strong foundation for all the internal auditing techniques you'll learn in the future, from the basic aspects of auditing to more advanced concepts.
In this seminar, you will learn the concepts of traditional and operational auditing and gain proven tools and techniques for performing effective audits. You will gain a solid background in the basics of documenting and evaluating internal control/fieldwork techniques. Using specifically formulated case exercises, you will examine the critical elements of internal auditing: assessing risk, flowcharting, designing flexibility into the audit program, performing the audit and applying audit results to solve business problems. You also will focus on and put into practice the communications skills associated with internal auditing: conferencing with customers, writing audit findings, and selling audit recommendations.
---
Internal Audit School
The internal audit school audit training is an intensive four-day seminar that will dramatically improve your proficiency in spotting the key risks threatening a company's biggest business objectives so that the organization can deal with them before they do serious damage.
In this seminar, you will master fundamental operational auditing techniques and learn how to use a risk-based approach to enhance your audits of the Purchasing, Marketing, Human Resources, Information Technology (IT), Management, Finance, Treasury, and Accounting functions.
---
Audit And Security For Cloud-Based Services
Cloud computing is becoming more prevalent than ever in business, and conventional internal audit training courses do not cover the unique challenges that arise when it comes to business financial security in cyberspace. This course will fill those crucial gaps.
In this seminar, attendees will explore the current state of cloud computing and its common architecture, as well as examine the major SaaS, PaaS, and IaaS providers in the market today. We will cover the security and control deficiencies that exist in cloud-based services and look at Security-as-a-Service as a way to protect against them and will review a risk-based approach to audit and controls for cloud based-services and investigate such areas as cloud-based network models, cloud brokers, and disaster recovery and governance in a cloud-services environment.
---
Fraud Audit School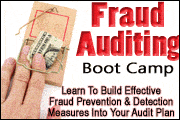 Internal auditing seminars covering fraud are some of the most important trainings we offer. Fraud is a massive cause of business loss, doing billions of dollars of damage each year. The faster and more effectively you can recognize signs of fraud in the business environment, the better.
Fraud Audit School is designed to provide you with a thorough understanding of the types of fraud taking place in today's business environment, and the techniques you need to build effective fraud prevention and detection measures into your audit plan.
---
Auditing A Cybersecurity Program
As one of our more dynamic and immersive internal audit trainings, this seminar will put you right in the thick of the challenges of dealing with cybersecurity threats to your business. If you're on the team responsible for cybersecurity for your business, you need this training.
During this seminar, attendees will simulate an actual cybersecurity program audit, vulnerability and threat analysis, and cyber risk assessments, giving attendees the opportunity to conduct a series of exercises which are designed to establish or reinforce the attendee?s knowledge of effective control design and execution.
---
IT Audit School
It's the rare business today that can function without a solid IT infrastructure. Many companies outsource much of their IT support, making a strong internal auditor even more important. Even if your IT team is in-house, the more you understand about IT auditing issues, the better.
This course is designed for financial, operational, business, and IT auditors who need to update their technical and operational knowledge to audit information technologies and business application systems. Focusing on a top-down, risk-based approach to auditing application system transactions, you will master techniques you can apply to all types of applications from batch, to on-line, to real-time systems.
---
IT Auditing And Controls
An even more intensive look into the important auditing issues that IT creates, this course will help you with everything from IT basics to planning IT audits to database technology and controls and much more.
This seminar outlines the concepts of information technology you need to know in order to understand the audit concerns in the IT environment. You will learn the necessary controls for application systems - the session pinpoints specific controls to evaluate when auditing currently installed systems, new systems under development, and the various activities within the information technology department. In addition, you will learn techniques for auditing automated systems and examine the impact of Sarbanes-Oxley on IT audit.
---
Audit Data Analytics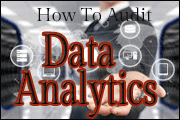 If you're responsible or plan to be responsible for managing your company's data analytics for compliance, you must take this two-day seminar, which can open you up to new ways to maximize the way you analyze data.
In this seminar, attendees will learn what it takes to set up and run a successful data analytics, or Computer Assisted Audit Techniques (CAATs) function within an audit or compliance team. You also will review common hurdles and hear how the most successful organizations in the world have been able to exploit the power of data analysis to achieve visible and sustainable value.
---
Information Security Boot Camp
If you've been searching for the right place to give your team the knowledge they need to pass required information security exams, you've found it. This is a comprehensive boot camp that covers a wide range of information security exam training.
This class will help information security practitioners prepare for the CISSP CBK exam, CISM, CISA, or other formal exams in information security or IT controls. It is also relevant for audit staff who validate and verify core IT systems and risk-related personnel who rely on IT for maintaining corporate and customer systems. By attending, you will learn aspects of the ISC2 Common Body of Knowledge (CBK) in conjunction with evaluating methods and tools required for essential elements needed to construct or audit a comprehensive information security framework.
---
Auditing Business Application Systems
If your company is one of the many that are moving toward more automated business applications, this is one internal auditing seminar you'll want to take. With this course, you can learn how to evaluate all features of a business application along with general IT control risks and objectives.
This seminar is designed for financial, operational, and information technology auditors who need a technical and operational understanding to audit automated business applications. By attending, you will learn how to assess key risks and controls in each stage of the application processing cycle and how to prioritize your audit approach to achieve optimal results in an effective and efficient manner.
---
Risk School
In this seminar, attendees will learn the underlying concepts of a risk-based audit methodology. We will cover all aspects of risk assessment, including the fundamentals of risk-based auditing, defining risk in business terms, identifying key risk areas, evaluating global risk and conducting a detailed risk analysis at the engagement level.
Be prepared for an immersive experience. This is an intensive four-day internal auditing seminar that includes risk drills to test your knowledge.
---
Audit Report Writing Boot Camp
There are more than a few internal auditors who are tremendously skilled at analyzing financials and assessing risks, but many struggle to turn their knowledge into cogent reports. If that sounds like you, this is the training you want.
This seminar is comprised of the building blocks of writing that are essential in achieving results. Attendees will learn to determine audience and purpose, mind mapping, building a transparent structure, cutting the clutter, making sentences make sense, parallel construction, efficient editing and active/passive voice.
Find Other Audit Training Courses
To find other Audit training seminars or Auditor training courses, either select one of the recommended courses below, or select "Auditing" and your state from the "Professional Development" section of the search box below.
Recommended Training Courses:
Webinars Or Audio Conferences
Find Seminars, Webinars, And Online Training In Your Area
What Does An IT Auditor Do? What Are Common Auditor Responsibilities?
An auditor also can evaluate the organization's internal control and make recommendations on how to improve.
An Auditor typically examines an organization's financial records and processes to provide an independent and objective opinion that they are accurate.
Further, Auditor responsibilities include ensuring compliance with internal control procedures by examining records, reports, operating practices, and applicable documentation. According to the type of audit - for instance, compliance, financial, or tax - the Auditor verifies assets and liabilities by comparing items to documentation, then presents the results and recommendations to management, stakeholders, and/or regulatory bodies as necessary.
The Responsibilities Of An Auditor
The auditor helps an organization ensure that its:
Financial records are accurate
Financial statements are free of material misstatement, whether caused by error or fraud
Assess financial operations and work to help ensure that organizations run efficiently
Workers are complying with relevant laws and statutes
Taxes are paid properly and on time
Whether your are searching for Internal Audit, Fraud Audit, IT Audit, or any number of audit training courses, we have the course for you! Don't wait; order your audit training seminar today!