Securities Licensing
Securities Licensing Training Courses
Are you seeking to earn your securities license to offer investments and planning advice to your clients? Then look no further!
CPATrainingCenter offers securities licensing exam preparation courses to help candidates meet securities licensing requirements. To get started on your securities licensing exam preparation, click on one of the links below or select your desired license from the "Licensing" section of the search box below, choose your state and press 'Go!'.
Our best-selling securities licensing training courses include:
Securities Industry Essentials (SIE) exam
.
Find Securities License Training Courses
Our securities licensing courses are provided in a number of training formats to help you prepare for the exam in the method that you best learn. We offer live classroom seminars, virtual online courses, self-study materials in textbook and CD-ROM formats.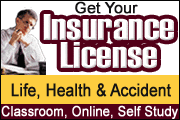 To see the full list of our securities licensing courses, either select your license type and state from the "Licensing" section of the search box below or go to our sister website,
ABTrainingCenter.com
.
Also Available: Life and Health Insurance Licensing Courses
For information on insurance licensing, go to
www.CPATrainingCenter.com/Life-Insurance-Licensing-Courses
.
Find Seminars, Webinars, And Online Training In Your Area