Financial Planning Training And Certifications For Accountants
Searching For Financial Planner Training?
Are you an accountant or CPA searching to expand your business by offering financial planning to your clients? If so, you've come to the right place!
The CPA Training Center provides several financial planning training courses and professional certifications to assist with your financial planning training needs. As accountants, we know you rarely find "spare" time, so our courses get right to the point.
What Is Financial Planning? Why Is Financial Planning Services Important For Accountants
Accountants use financial planning to help analyze their client's finances, insurance needs, and long-term goals, with an eye towards prioritizing spending and investments to achieve those goals.
Financial planning services are important for accountants because it helps you to better serve your clients - and creates additional revenues for your firm. In fact, many accountants use their expertise in financial planning to attract new business.
Offering financial planning services also increase customer longevity, as studies have shown that providing three or more distinct services greatly enhances your positioning with clients.
Do Accountants Need A Financial Planning Certification To Offer Financial Planning Services?
While accountants do not need a financial planning certification to offer financial planning services, it certainly helps. A financial planning certification not only makes you smarter on such topics, but shows your clients that you have taken the time to improve your services for them.
Recommended Financial Planning Training Courses And Certifications
To find financial certifications and financial planning training courses, simply click on any of the recommended selections below or search under "Professional Development" in the search box thereafter for "Financial Planning".
---
Certified Financial Planner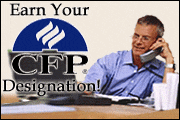 Guarantee your CFP Certification Examination success with a comprehensive CFP Review Course! Specifically designed to help professionals prepare to pass the CFP Certification Examination, we offer several options to meet the diverse needs of candidates.
---
Qualified Financial Advisor
The Qualified Financial Advisor (QFA) program equips you with a substantial overview of the most critical concepts in financial planning and wealth management, without the rigors of preparing for the CFP exam. The QFA designation is ideal for persons who are involved with customer transactions and recommendations of all financial services products.
---
Finance For Managers
The Finance for Managers Certificate program is designed to give you the knowledge and confidence you need to assess or make critical financial business decisions day-in and day-out. This course features materials that can help you further your career and build your future. From basic mathematical calculations to analysis of capital budgeting techniques, the curriculum shows you the concepts and tools that can help you make more informed and financially sound decisions on a daily basis.
Find Seminars, Webinars, And Online Training In Your Area