Series 7 Exam Preparation
Best-Selling Training Courses:
Instructor-Led: Webinars
Online Training Courses
How To Get A Series 7 License
Are you seeking to earn your Series 7 license? Then look no further!

CPATrainingCenter provides numerous Series 7 exam preparation courses - such as Series 7 Seminars, Series 7 Online Courses, Series 7 Self-Study Packages, and Series 7 Webcasts - to help you pass your Series 7 exam and earn your Series 7 license.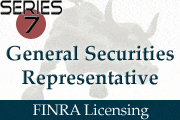 Series 7 - General Securities Representative

As a CPA or Accountant, you may have considered getting your Series 7 license in order to offer a vast array of securities products or other investments to your clients.

If you are looking to expand your practice as such, then you probably are wondering how to pass the Series 7 exam ? How much you need to study for it (100-120 hours), what questions might be found in the exam, and what Series 7 training materials are available that will increase your chances of obtaining the Series 7 license on your first try?

CPATrainingCenter will help you to answer these questions and pass your Series 7 exam - the first time!
Recommended Series 7 Training Courses
To begin your Series 7 exam preparation, simply select one of the recommended training options below, or search under "Licensing/Designations" in the search box thereafter for "Series 7".
Best-Selling Training Courses:
Instructor-Led: Webinars
Online Training Courses
Find Seminars, Webinars, And Online Training In Your Area
Share on Facebook
Share on Twitter