Fundamentals Of Internal Auditing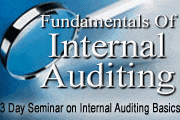 Seminar: ID# 1003292
About This Course:
In this three-day seminar you will learn the concepts of traditional and operational auditing and gain proven tools and techniques for performing effective audits.
You will gain a solid background in the basics of documenting and evaluating internal control/fieldwork techniques. Using specifically formulated case exercises, you will examine the critical elements of internal auditing: assessing risk, flowcharting, designing flexibility into the audit program, performing the audit and applying audit results to solve business problems.
You also will focus on and put into practice the communications skills associated with internal auditing: conferencing with customers, writing audit findings, and selling audit recommendations.
Overview Of The Agenda
Below is an overview of this course's agenda. Please click the "Agenda" tab at the top of this page to view the complete agenda.
Types Of Internal Audits
Economy, Efficiency, And Effectiveness
Operational Vs. Financial Auditing
Identifying Auditable Activities
Risk Factors
Planning And Preliminary Fieldwork
Documenting Internal Controls
Audit Reports
Bonus
You will receive copies of the
Standards for the Professional Practice
, invaluable sample documents you can use as models for your own drafts, the COSO overview, and complete text of the Sarbanes-Oxley Act of 2002.
Prerequisite: None
Learning Level: Basic
Dates & Times
Classes start on the date(s) posted herein, and run from 8:30am to 5pm daily, except for the last day of class, which ends at 3pm.
Testimonial
"
Great class! I have learned so much being new to the audit world. Cannot imagine doing my job effectively without this course.
"
- Shakeya McDow, Risk Advisory Specialist, Brinker International
Order:
Fundamentals Of Internal Auditing
Price: $2,195.00
To order this product, find a location and date that is convenient for you under the "
Cities & Dates
" tab.