Auditing A Cybersecurity Program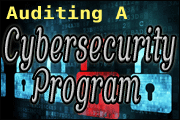 Seminar: ID# 1005026
About This Course:
During this seminar, attendees will simulate an actual cybersecurity program audit, vulnerability and threat analysis, and cyber risk assessments, giving attendees the opportunity to conduct a series of exercises which are designed to establish or reinforce the attendee's knowledge of effective control design and execution.
By the end of the session, attendees will be armed with additional knowledge of how perform a cyber assessments and become a more valued member of your organizations "Cyber Defense Team".
Overview Of The Agenda
Below is a partial listing of this course's agenda. Please click the "Agenda" tab at the top of this page to view the complete agenda.
Vulnerability Assessment components
Threat Analysis
Authorized and unauthorized devices and software
Secure configurations
Control use of administrative privileges
Maintenance, monitoring, and analysis of audit logs
Email and web browser protection
Limitation and control of network ports, protocols, and services
Penetration test and red team exercises
Order:
Auditing A Cybersecurity Program
Price: $2,195.00
To order this product, find a location and date that is convenient for you under the "
Cities & Dates
" tab.