Earn A Qualified Financial Advisor Certification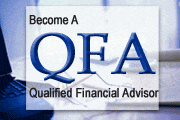 Perhaps you have considered pursuing a financial planning certification to assist your clients with their investments or other planning needs.

Then look no further, and consider the Qualified Financial Advisor (QFA) designation!

CPA Training Center provides the QFA training and certification course for those professionals who are interested in earning the prestigious Qualified Financial Advisor (QFA) designation.

The Qualified Financial Advisor (QFA) designation is ideal for those professionals who provide financial planning and advisory services to their clients and wish to expand their knowledge. The QFA program is the perfect alternative for those professionals who may wish to attain the coveted CFP® designation, but may lack the bachelor's degree or experience requirements, or the time/money to devote to becoming a CFP® certificant.

For those QFA designees who wish to pursue CFP® Certification later, successful completion of this program allows a QFA designee to exempt out of the first (FP101) of six modules of the Accelerated Certificate In Financial Planning program.

Curriculum

This course introduces candidates to the concepts and profession of personal financial planning, comprised of one online course with 12 lessons. Each lesson can be completed in approximately 8-12 hours and includes a corresponding online quiz with 8 multiple-choice questions, and an online final examination. The lessons are:
Lesson 1: Fundamental Considerations in the Wealth Management Process-

Lesson 2: Time Value of Money Principles

Lesson 3: Measurement of Risk and Return

Lesson 4: Asset Allocation Process

Lesson 5: Investment Strategies

Lesson 6: Tax Implications and Strategies in the Financial Planning Process

Lesson 7: Insurance Products in Wealth Management

Lesson 8: Education Funding

Lesson 9: Business Ownership and Planning

Lesson 10: Retirement Planning Considerations

Lesson 11: Equity Compensation

Lesson 12: Estate Planning Consideration
Additional Requirements

There are no additional examination, experience, or education requirements to earn the Qualified Financial Advisor designation.

Continuing Education Requirements

Candidates are not required to complete any continuing education courses, nor pay an annual administration fee to main their designation.


Recommended QFA Training Course
CPATrainingCenter.com offers the online curriculum for earning the QFA designation. Simply select the recommended course listed below, or search under "Licensing/Designations" in the search box thereafter for "QFA - Qualified Financial Advisor".