Network Security Essentials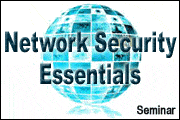 Seminar: ID# 1003579
About This Course:
In this intensive three-day seminar you will review the basic operating characteristics and risks associated with LANs, WANs, client/server and other forms of networking and distributed computing architectures.
Learning Objectives:
Survey best practices for securing and auditing network applications, interconnection devices, and remote access and perimeter security services
Map and organize the use of built-in and add-on tools to security policy and audit requirements to determine the essential topics that must be addressed in compliance and risk management, security administration standards and procedures, and audit programs
Receive security and audit checklists at the end of each control-related section. (Note: This seminar covers the topics found in Chapters 3 and 4 of the CISA Review Manual.)
Please click the "Agenda" tab at the top of this page to view the complete agenda.
Bonus:
You will receive the MIS Swiss Army Knife Reference, listing hundreds of valuable information security and audit resources, including free software security and audit tools
Who Should Attend:
Information Security Managers and Analysts; Security Administrators; Information Technology Managers, Planners and Strategists; Information Technology Auditors; Consultants.
Prerequisite:
IT Auditing and Controls
or equivalent experience.
Learning Level:
Intermediate
Dates and Times:
Classes start on the date(s) posted herein, and run from 8:30am to 5pm daily, except for the last day of class, which ends at 3pm.
Continuing Education Credits:

Click the 'Credits' tab above for information on PHR/SPHR, PDCs, and other CE credits offered by taking this course.