How To Become An Accountant
How To Become An Accountant
Becoming an accountant may seem like a daunting task, but for those interested in entering the accounting profession there are basic steps that will lead you to your goal.
CPATrainingCenter.com offers simple steps to follow that will assist you in becoming an accountant.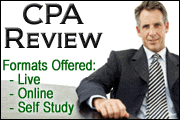 To start your career as an accountant, it is important to look at the personal qualities needed to succeed in the field of accounting.
How to become an accountant generally starts with your attention to detail. Accountants must be able to analyze a wealth of information and accurately decipher its meaning in relation to the task at hand.
Most accountants have exceptional math and computer skills and are fully capable of communicating in written correspondence as well as verbal communication.
While these qualities are often seen as inherent, most accountants have mastered these skills along their educational process of becoming an accountant.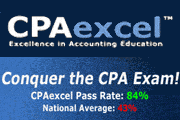 It is important to remember that finding the right college or university may also help you develop these necessary skills.
When selecting a college or university be sure to research what accounting programs and accounting degrees they offer. Each state has specifications for semester credits needed for an accounting degree.
Keep in mind an accounting degree is required before you can earn a Certified Public Accountant (CPA) certification. For that reason be certain when selecting an accounting program that the accounting degree you earn will fulfill the requirements mandated by the state in which you would take the CPA exam.
While working towards your bachelor's degree in accounting, become familiar with accounting software such as QuickBooks and other software packages that accountants use. Proficiency in accounting software is required by most firms when hiring an accountant.
Working as an intern or a part-time employee in an accounting firm while in school is another valuable tool in becoming an accountant. It is common for accounting firms to not only require a bachelor's degree, but also work experience in an accounting environment when they hire an entry-level accountant.
CPATrainingCenter.com brings those interested in becoming an accountant the most comprehensive menu of tools and services that will put them on track to achieve their goal.
Recommended Accounting Training and Available Courses
To begin your search for CPA Exam Prep, simply select one of the recommended training options below, or search under "DesignationsCertifications" in the search box thereafter for "Certified Public Accountant (CPA)".
Find Seminars, Webinars, And Online Training In Your Area