Sales & Use Tax Training Courses
If you have questions about sales and use tax laws, you're not alone. There are 7,500 different taxing jurisdictions in the United States alone, and they routinely tax the same products differently. It's easy to understand why our sales and use tax laws are considered among the most complicated in the world.

To add to your challenge, state governments are aggressively pursuing new avenues of taxation. Faced with a slumping economy, they want a bigger piece of the revenue pie. Clearly, your job has never been more difficult - or important - to your organization.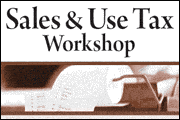 Further, Internet sellers face a murky and sometimes ill-defined landscape with respect to sales and use taxes that are impacted by both state law and federal constitutional principles.

Sales & Use Tax Implications For Your Clients

If you work as an advisor, you need to know your client's sales and use tax needs, classify its products or services correctly, and understand its sales and use tax issues.

Knowing, and helping your clients with their sales and use tax training, will further cement your relationship and develop audit business for you.
Find Sales & Use Tax Training Courses
The CPA Training Center offers several Sales and Use Tax training courses. Simply click on a Recommended Course below or use the search box to find your desired SOX training courses. FYI, our Sales & Use Tax training courses cover:
The most commonly misunderstood aspects of sales and use taxes

The sales and use tax requirements in your state - and all other jurisdictions where you have tax liability

Where to find the latest changes in sales and use tax laws that govern your industry

How to streamline your recordkeeping without putting your company at risk

How e-trade is affected by sales and use tax

Emerging state approaches to taxing Internet vendors

How to protect your company against audit surprises

Tax savings opportunities and exemptions you may not be aware of
Note: CPE credits apply to some of these courses.