Listed below is our HR webinar calendar. Most titles are available via live, CD, and On-Demand formats, and almost all offer SHRM and HRCI credits.
IRS Rules For Travel Pay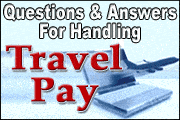 This audio conference covers the IRS rules regarding what is considered travel versus commute and what is an allowable expense versus taxable wages. It will enable you to understand how and when to compensate an employee for travel time away from a work site.
Available Versions:
Live on: 11/14/2018. Also available via CD, On-Demand
Looking for webinars available right now? Check out our on-demand webinars.
Find Seminars, Webinars, And Online Training In Your Area