Writing Effective Audit Reports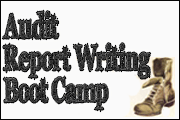 Seminar: ID# 1005025
Pricing: $1,995.00
About This Course:
This two-day seminar is comprised of the building blocks of writing that are essential in achieving results.
This course focuses on writing skills. It will help auditors at all levels refine their writing skills and brush up on the basics. The course provides instruction on all aspects of effective writing that applies to any audit or business-related documents.
You will learn techniques for organizing information and ideas and strategies for achieving clear, concise, and complete communication. Together we'll explore how to help one another improve writing and achieve a consistent voice in writing between all audit teams.
We will look at the methods to improving communication both during and after fieldwork that contribute to an overall shorter report writing stage.
Overview Of The Agenda
Below is an overview of this course's agenda. Please click the "Agenda" tab at the top of this page to view the complete agenda.
The Deming quality management concept as it applies to report writing
The five components of a well-written Finding and Recommendation
Writing to achieve results in audit reports
The six most common editing problems
The six most useful editing techniques
Common errors in an audit report
Learning Level: Basic
Prerequisite: None
Advance Preparation: None