Understanding Financial Statements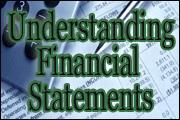 Seminar: ID# 1003649
Pricing: $299.00
About This Course:
If you're a business professional who could benefit from a more thorough grasp of financial statements, this course is tailor-made for you!
You'll quickly master financial statement fundamentals and develop a comprehensive understanding of how they work, learn how to interpret them accurately, and discover how to use their information to make more effective, better-informed business decisions that have a positive impact on your organization's bottom line.
In this powerful one-day seminar, you'll take a guided tour through the complexities of the financial statement. In clear, easy-to-understand language, we'll explain how to read financial statements, interpret their data, and put that information to positive use.
This course is designed to give business owners, managers, and other non-financial professionals an arsenal of tools for understanding, analyzing, and interpreting financial statements. As a result of this course, you'll have a better understanding of not only financial statements, but of how their information fits into the "big picture" at your organization.
You'll be able to use the information gleaned from financial statements to plan ahead for your organization, ensure that cash flow is regulated, and make timely, educated decisions regarding new product lines, equipment purchases, business expansion, increasing personnel, borrowing capital, and much more.
What You'll Learn:
How to decipher general accounting terminology and gain a clear understanding of the language of finance and accounting
Gain insights to vastly improve your working knowledge and interpretive ability for balance sheets, income statements, and cash flow statements
How to use your enhanced knowledge of financial statements to develop better budgeting, projection, and forecasting skills
Interpreting annual reports: how to translate their deluge of information into knowledge that can help you make informed decisions
How to better communicate with accountants, bankers, comptrollers, and other finance professionals
Using financial ratios to analyze trends, conduct industry comparisons, and predict financial problems before they become insurmountable
Continuing Education Credits:

Click the 'Credits' tab above for information on PHR/SPHR, PDCs, and other CE credits offered by taking this course.