Succeeding As An Administrative Professional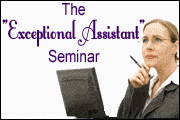 Seminar: ID# 1003604
About This Course:
Learn to manage people, problems and priorities and become The Exceptional Assistant®
You could spend years on the job acquiring these professional skills - and you might make a lot of mistakes and misjudgments along the way.
Or, you can attend this powerful, one-day seminar and learn practical, hands-on ideas that will make you more productive, more valuable, and more satisfied in your job than ever before.
You'll handle the demands of your job with the confidence, judgment, and professional acumen of the most experienced, capable assistants. And, equipped with increased skills, you'll open the door to more responsibility, great credibility, and increased pay and status.
No doubt, your formal training included technical skills such as typing and word processing, filing, administrative procedures, and more. But what about professional skills - skills they don't teach you in school, yet are so essential to the productive, successful, rewarding work experience?
This Is The Seminar You've Been Waiting For If You Want To:
Solve long-standing problems and stresses you thought you'd have to live with!

Organize dozens of priorities and people - and actually make it look easy (In fact, it will be easier!)

Communicate like a pro - receive and give feedback that stops mistakes before they happen

Manage time and resources expertly - you'll reduce frustration and gain hours every day

Delegate work without worry; even if you lack authority, you can get help and get it done right

Smooth the peaks and valleys in your workload and put an end to chaos and panic
What You'll Learn:
Prioritizing
Problem solving
Delegating
Political and people skills
Managing time, resource, and crises
Decision making, and much more
Order:
Succeeding As An Administrative Professional
Price: $99.00
Order Now