Need Sarbanes-Oxley Training?
Are you seeking to learn more about the Sarbanes-Oxley Act? CPA Training Center provides Sarbanes-Oxley Act training and other SOX training information to help answer the questions, "What is Sarbanes-Oxley?" or "What are the Sarbanes-Oxley requirements?"

The Sarbanes-Oxley Act of 2002 (otherwise know as SOX) was legislation created to protect shareholders, investors, and the general public from accounting errors and fraudulent accounting activities by corporations.
SOX Reporting Requirements
The Act legislates Sarbanes-Oxley requirements; namely, what financial records a company must store and for how long, and stipulates penalties for non-compliance.

Essentially, SOX mandates strict reforms to improve financial disclosures from corporations and prevent accounting fraud. It requires that all publicly-traded companies establish internal controls and procedures for financial reporting.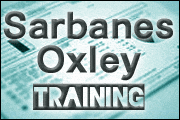 The Sarbanes Oxley Act requires:
That all financial reports include an Internal Controls Report that shows that a company's financial data is accurate and adequate controls are in place to safeguard financial data
The establishment of payroll system controls. A company's workforce, salaries, benefits, incentives, paid time off, and training costs must be painstakingly accounted for
A SOX auditor is required to review controls, policies, and procedures during a Section 404 audit
Auditor independence, corporate governance, internal control assessment, and enhanced financial disclosure
Year-end financial dislosure reports
Though Sarbanes-Oxley does not call out any specific IT requirements, the law does have a great impact on information systems, including the security of those systems, because the financial information covered under the law is processed and stored by IT systems.
SOX Training Courses
The CPA Training Center offers several SOX training courses to help with your - and your clients' - SOX compliance requirements. Simply click on a Recommended Course below or use select "Sarbanes-Oxley Act" from the "Professional Development" section of the search box below.