Series 24 Exam Preparation
Are you seeking to earn your Series 24 license? Then look no further!

CPA Training Center provides numerous Series 24 exam preparation courses - such as Series 24 Seminars, Series 24 Online Courses, and Series 24 Self-Study Packages - to help you pass your Series 24 exam and earn your Series 24 license.


Series 24 - Uniform Combined State Law Exam

Perhaps you have considered expanding your present practice of offering investment products and advice to your clientele by adding an investment representive to your firm and creating a branch office? In order to manage and supervise the activities of this investment representative, you would need to become a General Securities Principal by obtaining the Series 24 license.

As such, then you probably are wondering how to pass the Series 24 exam ? How much you need to study for it (50-60 hours), what questions might be found in the exam, and what Series 24 training materials are available that will increase your chances of obtaining the Series 24 license on your first try?

CPA Training Center will help you to answer these questions and pass your Series 24 exam - the first time!


Recommended Courses & Available Training Options

To begin your Series 24 exam preparation, choose one of the recommended training options below or simply select "Series 24" from the "Licenses/Designations" section of the following search box.
Recommended Training Courses: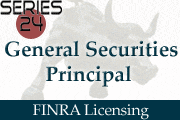 In-Person Seminars, Workshops, And Video Conferences
Webinars Or Audio Conferences
Self-Study Materials
Find Seminars, Webinars, And Online Training In Your Area
What Is SOX
The Sarbanes–Oxley Act of 2002 (aka "SOX" or the "Public Company Accounting Reform and Investor Protection Act" (in the Senate) and "Corporate and Auditing Accountability, Responsibility, and Transparency Act" (in the House), is a United States federal law that set new or expanded requirements for all U.S. public company boards, management, and public accounting firms. A number of provisions of the Act also apply to privately held companies, such as the willful destruction of evidence to impede a federal investigation.

SOX was arguably enacted as a reaction to corporate accounting scandals, such as those at Enron and WorldCom, and covers responsibilities of a public corporation's board of directors. It requires the Securities and Exchange Commission to create regulations to define how public corporations should comply with the law, and includes criminal penalties for certain misconduct.
Share on Facebook
Share on Twitter