Managing Multiple Priorities, Projects And Deadlines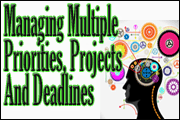 Seminar: ID# 1003778
Pricing: $149.00
About This Course:
Learn To Prioritize Crucial Projects, Manage Conflicting Demands, Reduce Pressure, And Master Multiple Tasks With Confidence With Our "Managing Multiple Priorities, Projects And Deadlines" Seminar!
Enroll now for this energizing one-day seminar if you need to get more done in less time...recognize your real priorities...keep track of numerous projects...­establish and meet deadlines...and eliminate bottlenecks.
This powerful one-day seminar teaches you the all-important skills that will help you deal with dozens of top priorities. Filled with practical how-to strategies, this time-management training will ensure that you:
Stop wasting time and get the clock working for you instead of against you
Take control of your multiple projects, even when they're all top priorities
Handle with ease all of the unexpected demands and unplanned situations that destroy the most careful scheduling
Stay cool, calm, and collected when the pressure is overwhelming and stress threatens your effectiveness
Set aside just one day for our "Managing Multiple Priorities, Projects And Deadlines" seminar, and you'll be able to manage multiple demands and priorities, get more done in less time, keep on top of numerous projects and deadlines, and eliminate pressure and stress from your work day. If you're too busy to attend, enroll today! For you, this seminar is truly a top priority!
Powerful Techniques That Make An Impact
:
Plans that really work - for today, next week, next month, and next year - even when you've had trouble adhering to plans in the past
What to do first - when everything is a priority and expectations are high
Action plans that move projects ahead - even stalled ones
Innovative methods that really keep you on track through changing priorities, last-minute alterations, uncertainty, crises, and chaos
Partial Agenda
Here is just some of what's covered:
The 25 most common time wasters that can afflict even the most productive professionals
Easy techniques to deal with incoming mail, "FYI" copies, reports, publications, and other "desk cloggers"
How to hold truly meaningful meetings that prompt decisions, actions, and responses
Ways to prevent needless visits from coworkers and others that put a dent in your day's productivity
How to identify the specific activities that are demanding too much of your attention - at the expense of other, more important priorities
Real-life approaches to delegation that save you from time-consuming training, guidance, and involvement
How to rid yourself of long-standing duties that you and your position have outgrown
Click the "Agenda" tab to see the full list of items covered, or the "Venues/Dates" tab to select a city and date to attend "Managing Multiple Priorities, Projects And Deadlines" seminar.
Continuing Education Credits:

Click the 'Credits' tab above for information on PHR/SPHR, PDCs, and other CE credits offered by taking this course.