Internal Audit School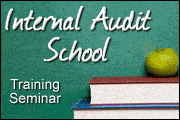 Seminar: ID# 1003478
About This Course:
In this intensive four-day seminar you will master fundamental operational auditing techniques and learn how to use a risk-based approach to enhance your audits of the Purchasing, Marketing, Human Resources, Information Technology (IT), Management, Finance, Treasury, and Accounting functions.
You will explore the objectives of major business operation areas and learn how to identify the key risks threatening them. You will find out how to make your audits more efficient and effective and how to use data analytics to gain an in-depth understanding of business processes.
You also will cover such critical areas as the impact of SOX, ERM, and GRC on the organization, uncovering fraud schemes that threaten business operations, and the role of IA in helping management build strong risk management and strategic planning processes.
You will leave this high-impact seminar with the skills necessary to go beyond outputs and to examine the organization's ability to achieve the necessary outcomes.
Partial Agenda
Below are just a few of the areas covered in this course. Please click the "Agenda" tab at the top of this page to view the complete agenda.
Branch And Representative Office Audits
Operational Auditing
Components Of Operational Audits
Auditing The Purchasing Functions
Auditing The Marketing Functions
Auditing The Human Resources Functions
Auditing The Finance, Treasury, And Accounting Functions
Auditing IT
Auditing The Management Function
Prerequisite
:
Fraud Auditing Boot Camp
or equivalent experience
Advance Preparation
: None
Learning Level
: Intermediate
Delivery Method
: Group-Live
Dates &Times
: Classes start on the date(s) posted herein, and run from 8:30am to 5pm daily, except for the last day of class, which ends at 3pm.
Order:
Internal Audit School
Price: $2,495.00
To order this product, find a location and date that is convenient for you under the "
Cities & Dates
" tab.