QuickBooks® Immersion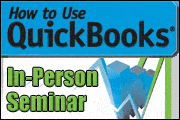 Seminar: ID# 1003624
Pricing: $149.00
About This Course:
QuickBooks is one of today's business accounting lifesavers.
This simple-to-use software can help you manage your inventory, track the costs of your business, generate professional invoices and purchase orders, stay on top of accounts payables and receivables, and ensure that your yearly tax preparation is accurate, timely, and frustration-free.
In short, QuickBooks is like having your own trusted business accountant with you every step of the way!
You could trudge through QuickBooks manuals...slog through tutorials...or just wing it and figure it out as you go along. But why bother, when you'll learn everything you need to know in this comprehensive seminar? By the end of the day, you'll be a virtual QuickBooks expert - able to set up QuickBooks and get a grip on all of your financial data for the benefit of your business.
In this seminar, we'll get you up to speed on QuickBooks' many features, tools, and menus; explore the easiest, most efficient ways to put QuickBooks to work for you; and drill down into more advanced functions. You'll be surprised at how swiftly you'll gain the knowledge and confidence you need to take full advantage of this powerful program!
Continuing Education Credits:

Click the 'Credits' tab above for information on PHR/SPHR, PDCs, and other CE credits offered by taking this course.