How To Supervise People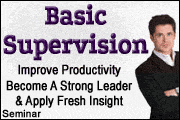 Seminar: ID# 1003665
Pricing: $99.00
About This Course:
Now, Supervisor Training Power-Packed With Fresh Ideas To Motivate You And Your Team!
As a supervisor, you're the one in charge, but you know all too well that your job description doesn't even begin to cover the many roles you actually fill. In today's world, supervisors and their teams have more complex relationships than ever before. A supervisor must be a friend ... coach ... boss ... and mediator.
For Any Supervisor, Training Is Key To Success When It Comes To:
Delegating
Motivating and praising
Delivering criticism and discipline
Working under pressure
Meeting tight deadlines
Training new employees
Organizing people, projects, and schedules
Our one-day "How To Supervise People" supervisor training seminar is power-packed with solid skills to help you maximize your role as a supervisor, plus fresh ideas to motivate you and your team.
You'll learn how to provide meaningful praise, enhance your communication skills, and keep top performers at their maximum level without burning out.
You won't be the only one who enjoys the benefits of your enhanced supervisory skills. Everyone at your organization will benefit - your own supervisor, your team, and everyone else who profits from the stronger leadership, improved productivity, and fresh insight you'll bring to the workplace.
Partial Agenda
Here is just some of what's covered:
The delicate balance necessary to supervise friends and former peers
How to give orders and instructions that are easily understood and readily accepted
Ways to set goals and assess productivity
How to build a positive work climate and deal effectively with negative attitudes
Click the "Agenda" tab to see the full list of items covered, or the "Venues/Dates" tab to select a city and date to attend "How To Supervise People" seminar.
Continuing Education Credits:

Click the 'Credits' tab above for information on PHR/SPHR, PDCs, and other CE credits offered by taking this course.