How To Manage & Organize Accounts Payable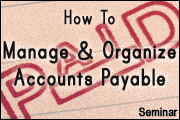 Seminar: ID# 1003647
Pricing: $199.00
About This Course:
The Way AP Operations Are Managed Can Pay Off...Or Cost Plenty!
When it comes to time, resources, and money, your AP operation is filled with opportunities for improvement...and this seminar shows you exactly how to tap into them!
Powerful Strategies Help You Gain Control Over Your Enormous Workload, Prevent Errors, And Eliminate Oversights.
In just one day, you'll learn the "success skills" that would take years of on-the-job experience to learn on your own (not to mention the mistakes and slip-ups you'd likely make along the way)! How to Manage & Organize Accounts Payable is a virtual "treasure trove" of information that will help you in every aspect of your job. Make the decision to enroll today - invest one day and be on your way!
What You'll Learn:
How to conserve cash resources while keeping vendors satisfied

Discover dozens of tips for eliminating the typical time-wasters that deplete your workday

Ways to cut through the complexities of payment cycles, terms, vendor discounts, and more

How to maximize company resources while minimizing the hassles

Organization secrets of top AP pros

And much, much more!
Continuing Education Credits:

Click the 'Credits' tab above for information on PHR/SPHR, PDCs, and other CE credits offered by taking this course.