How To Deliver Exceptional Customer Service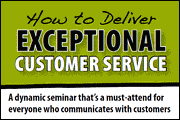 Seminar: ID# 1003599
Pricing: $199.00
About This Course:
This seminar teaches ways to work easily with others and create a more pleasant environment. It will help you train yourself, your staff, and your organization not only to head off problems, but also to rise to a superior level of service excellence.
Continuing Education Credits:

Click the 'Credits' tab above for information on PHR/SPHR, PDCs, and other CE credits offered by taking this course.