How To Communicate With Tact And Professionalism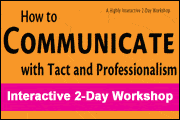 Seminar: ID# 1003614
Pricing: $299.00
About This Course:
Learn How To Communicate More Effectively With Our How To Communicate With Tact And Professionalism Seminar
Experts agree that the movers and shakers who climb the corporate ladder fastest are the ones who can relate easily to everyone, present their ideas with conviction and charisma, and emerge from almost every personal interaction on a high note.
Essentially, they've mastered the art of "connecting" with people in ways that almost always yield positive results.
Emerge A Far More Powerful Communicator
Our How To Communicate With Tact And Professionalism seminar will demonstrate and drive home the essential skills you need to become a more polished, persuasive communicator. You'll gain insights into everything from making a good impression ... to motivating people...to intervening in tense situations.
Attend this two-day seminar to improve your communication skills. It is packed with one great idea after another, and you'll leave amazed at your new communication skills - and eager to apply everything you've learned.
Partial Agenda
Here is just some of what's covered:
How to grasp what is not being said - but implied
The advantages of withholding judgment until the end of a situation
How and when to use open-ended, closed-ended, curiosity, and clarifying questions
Different strategies for different audiences (staff members, peers, and supervisors)
Ways to interpret nonverbal behaviors for a deeper understanding of what's being said
How to make sure your verbal message is consistent with your nonverbal message
How to fix situations - not people
The value of challenging familiar routines and behaviors
How to uncover hidden agendas, influence outcomes, and overcome conflicts
The best way to frame an unwelcome message
Click the "Agenda" tab to see the full list of items covered, or the "Venues/Dates" tab to select a city and date to attend "How To Communicate With Tact And Professionalism" seminar.
What You'll Learn:
Realize that diplomacy works far better than brute force
Know how to help people "get it" the first time
Can empathize, and they know how to get the support they need
Don't waste time rehashing instructions or entering into arguments that go nowhere
Listen first and act second - not the other way around
Continuing Education Credits:

Click the 'Credits' tab above for information on PHR/SPHR, PDCs, and other CE credits offered by taking this course.