Fraud Audit School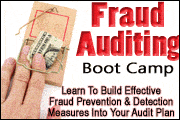 Seminar: ID# 1003310
About This Course:
When it comes to fraud, crime does pay…The Association of Certified Fraud Examiners reports that fraud and abuse cost typical US organizations 7% of revenues. This amounts to $994 billion dollars annually when applied to the US gross domestic product.
Add to this astronomical figure the requirements of Sarbanes-Oxley, HIPAA, GLBA, and PCAOB, and it is clear why finding and preventing fraud is a top priority in today's organizations.
About This Course
Fraud Audit School is designed to provide you with a thorough understanding of the types of fraud taking place in today's business environment, and the techniques you need to build effective fraud prevention and detection measures into your audit plan.
In four intensive days you will learn fraud schemes typically found in organizations, the red flags of fraud, how to minimize fraud, the impact of internal controls on fraud, and the steps to investigating fraud should it strike your organization. You will learn a proven fraud audit methodology, and cover such high-risk areas as misappropriation of assets, financial statement fraud, and management fraud.
You will focus on fraud detection strategies, the composition of a fraud scheme, fraud risk assessment, and the legal considerations of fraud.
Learning Objectives
Fraud Auditing Defined
Update On Professional Standards
The Realities Of Fraud
Auditing For Fraud
Fraud Risk Assessment At The Enterprise Level
Fraud Risk Assessment At The Audit Level
Financial Statements
Misappropriation Of Assets
Conducting The Fraud Investigation
The Legal Implications Of Fraud Auditing
Fraud Prevention Programs
Prerequisites
: None
Learning Level
: Basic
Who Should Attend:
Financial, Operational, IT, Internal and External Auditors; Audit Managers; Corporate Attorneys; Information Security professionals; Risk Management Personnel and Line Managers who need to gain an understanding of the growing risks of fraud.
Dates & Times:
Classes start on the date(s) posted herein, and run from 8:30am to 5pm daily, except for the last day of class, which ends at 3:30pm.
Order:
Fraud Audit School
Price: $2,495.00
To order this product, find a location and date that is convenient for you under the "
Cities & Dates
" tab.