Searching For Financial Planning Training?
Are you an accountant or CPA searching to expand your business with financial planning training classes? If so, you've come to the right place!

The CPA Training Center provides several financial planning training courses and professional certifications to assist with your financial planning training needs. As accountants, we know you rarely find "spare" time, so our courses get right to the point.

Recommended Financial Planning Training Courses

To find financial certifications and financial planning training courses, simply click on any of the recommended selections below or search under "Professional Development" in the search box thereafter for "Financial Planning".


---
Certified Financial Planner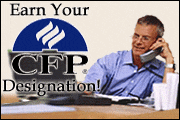 Guarantee your CFP Certification Examination success with a comprehensive CFP Review Course! Specifically designed to help professionals prepare to pass the CFP Certification Examination, we offer several options to meet the diverse needs of candidates.


---
Qualified Financial Advisor


The Qualified Financial Advisor (QFA) program equips you with a substantial overview of the most critical concepts in financial planning and wealth management, without the rigors of preparing for the CFP exam. The QFA designation is ideal for persons who are involved with customer transactions and recommendations of all financial services products.


---
Finance For Managers


The Finance for Managers Certificate program is designed to give you the knowledge and confidence you need to assess or make critical financial business decisions day-in and day-out. This course features materials that can help you further your career and build your future. From basic mathematical calculations to analysis of capital budgeting techniques, the curriculum shows you the concepts and tools that can help you make more informed and financially sound decisions on a daily basis.