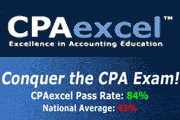 About The Training Provider:
CPA Excel
CPAexcel is the leading computer-based CPA review course! CPAexcel delivers the knowledge and instructional expertise of top CPA Exam review course professors to CPA Exam candidates worldwide.
CPAexcel's Efficient Learning System fully integrates multiple learning resources, including Diagnostic Exams, Study Text, Proficiency Questions, Past Exam Questions, Simulations, Electronic Flashcards, Exam Tutor, Discussion Groups and Guided Seminars into bite-sized, efficient lessons.
Access to any course component is just a click or two away. This complete integration of components saves time, which can then be used to learn more material and answer more exam questions correctly.
CPAexcel's courses are authored and led by university professors and CPA Exam experts at the nation's top accounting schools. Our authors present the material at the exact level of detail you'll find on the exam, plus you have unlimited access to CPAexcel's professors to answer your questions.
Refund Policy:
Refunds must be requested within 10 business days of purchase and are subject to a 15% processing and restocking fee. Refunds will not be processed unless products are returned in like-new condition within 14 days of the refund agreement and have been inspected and accepted by customer service.
Training By CPA Excel