Earn A Professional Bookkeeper Certification!
CPATrainingCenter.com offers Professional Bookkeeper training and certification courses for those individuals interested in earning the prestigious Professional Bookkeeper designation.

The Professional Bookkeeper (PB) certification is the undisputed professional credential for persons who typically administer day-to-day accounting and bookkeeping practices for small to mid-size businesses.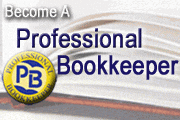 Your Professional Bookkeeper certification uniquely announces to employers and clients that designees have proven their ability through training, testing, and experience to provide full bookkeeping and accounting services in a professional manner.

Curriculum

The Professional Bookkeeper certification program is comprised three learning modules, and may be pursued in a classroom environment or in a self-study format. These three modules provide approximately 40-48 hours of focused training in the practical applications of accounting procedure.
Required Courses

Accounting Made Easy – teaches the fundamental principles of accounting for small businesses

Practical Small Business Application – teaches the day-to-day procedures used by businesses each month to record and tabulate their financial events

Advancing Your Account-Ability – teaches more sophisticated issues associated with creating a set of books from scratch, auditing results internally, and closing out the books at the end of the year
Examination Requirements

The exam questions, all multiple-choice and offered as an online examination, are taken from material covered in the three modules of the PB Program. To ensure exam integrity, each test is different; the questions are randomly selected from a pool of exam questions.

Upon completion, your score will be made available immediately, along with the questions you missed and the areas of the program you should review. To be awarded the Professional Bookkeeper designation, you must earn a score of 90% or higher; however, a Certificate of Completion is provided for those students who earn a score of at least 65%. If unsuccessful in achieving an adequate score at your first sitting, you may retake the test after 30 days.

Students will receive either the Professional Bookkeeper designation notification or Certificate of Completion in the mail within four weeks of taking the exam.

Additional Requirements

Candidates are not required to meet any experience or educational requirements to pursue the Professional Bookkeeper (PB) designation.

Continuing Education Requirements

Candidates are not required to complete any continuing education courses, nor pay an annual administration fee to maintain their designation.
Recommended Courses & Available Training Options
CPA Training Center offers the convenient self-study program for earning the PB designation. Simply select the recommended course below, or search under "DesignationsCertifications" in the search box thereafter for "PB – Professional Bookkeeper".