Basics Of Income Tax Accounting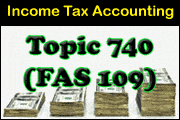 Seminar: ID# 1003943
This course is available in both in-person and video conference formats.
Go to the "Venues/Dates" tab to find a date that is convenient for you.
About This Course:
This course is an introduction to the concepts and rules under ASC 740. It is intended for someone who is just beginning work with Accounting for Income Taxes or for someone who wants to review the rules regarding this issue.
Here's what you'll learn:
Temporary Differences
Calculation of the Current Provision
Calculation of the Deferred Provision
Valuation Allowance
True-Ups of the Income Tax Provision
Disclosure Requirements
Effective Tax Reconciliation
COURSE OVERVIEW
Objective of course and standard
History of standard
Review of related financial standards
TEMPORARY DIFFERENCES WITH CASE STUDY
Definition of temporary difference
Taxable temporary difference versus deductible temporary difference
Examples of temporary differences
Calculation of a temporary difference
DEFERRED TAX PROVISION
5 step process
Appropriate tax rate to use
Calculation of deferred tax provision
CURRENT TAX PROVISION WITH CASE STUDY
Permanent differences
Appropriate tax rate to use
Calculation of current tax provision
VALUATION ALLOWANCE
Discussion of more likely than not
Sources of income
Positive versus negative evidence
Subsequent recognition of valuation allowance
RETURN TO PROVISION ADJUSTMENT WITH CASE STUDY
How to do a return to provision adjustment
Effect on income statement and balance sheet of a TRP adjustment
FINANCIAL STATEMENT DISCLOSURE REQUIREMENTS WITH CASE STUDY
Information required to be disclosed in the footnotes
Effective rate reconciliation
Order:
Basics Of Income Tax Accounting
Price: $895.00
To order this product, find a location and date that is convenient for you under the "
Venues/Dates
" tab.