Auditing Applications Against SDLC And Coding Standards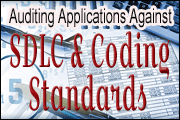 Seminar: ID# 1005027
About This Course:
This one-day workshop is designed to give the auditor a practical simulation regarding key concepts to assess during an application audit.
The workshop also walks you through examples and scenarios IT auditors would face when evaluating the design and operating effectiveness of common internal controls of business applications.
The workshop will be based on a series of situations IT Auditors normally encounter when auditing business applications. You will work together to walk through real-life examples to assess controls, including testing results and determining the appropriate audit response.
---
Agenda
---
Application Level Logical Access–RBAC
Developing and maintaining roles

Alerting to role changes
Coding Standards
Meting OWASP for web; mobile and iOT
Software Development Lifecycle
In-house vs. vendor delivered

Requirements gathering

Testing and test data
Encryption
Asymmetric vs. symmetric

At rest/in transit
Contextualization of IT
Security considerations

Platform considerations

OS considerations

Application considerations
Cloud Based Applications
Contract

SLA

Right to audit

Log files

Retention and destruction
Learning Level: Intermediate
Prerequisite: Strongly suggested to take with Intermediate IT Audit School
Advance Preparation: None
Order:
Auditing Applications Against SDLC And Coding Standards
Price: $895.00
To order this product, find a location and date that is convenient for you under the "
Cities & Dates
" tab.