Advanced Income Tax Accounting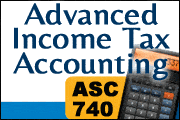 Seminar: ID# 1003938
This course is available in both in-person and video conference formats.
Go to the "Venues/Dates" tab to find a date that is convenient for you.
About This Course:
This course will examine more advanced accounting topics and how ASC 740 relates to them. It is intended for someone who has experience working with a company's tax provision.
Here's what you'll learn:
Mergers and Acquisitions
Uncertain Tax Positions
International Issues including accounting for income taxes under IFRS
Interim Reporting
Intra Period Accounting
Stock Transaction
Overview
Objectives of the course and a review of the topics covered
Overview of related accounting concepts
Objectives of the standard
Initial recognition requirements
How to measure the amount recognized
Subsequent events
Disclosure requirements
Overview of the standards relating to business combinations
Comparison of the new standards versus the old standard
Treatment of goodwill
How a business combination effects a company's tax provision
Permanently reinvested earnings
Application of ASC 740 to foreign subsidiaries
Foreign currency issues
IAS 12 requirements
Calculating the annual ETR
Computing an interim tax provision
Discrete items
Allocation of taxes between continuing operations and others groups of income
Allocation of losses and credits between types of income
Rules for accounting for stock transactions
Tax rules for stock transactions
Effect stock transactions has on a company's tax provision
Order:
Advanced Income Tax Accounting
Price: $895.00
To order this product, find a location and date that is convenient for you under the "
Venues/Dates
" tab.