Need Training For Fraud Or Forensic Accounting?
Fraud is on the rise, making it a high-demand service for accountants to offer their clients and prospect. So if you are seeking training for fraud or forensic accounting, we can help!
Simply read up the the basic fraud and Forensic Accounting information provided below, then select one of our training classes to get trained!
Defining Fraud, Forensic Audits, And Forensic Accounting
Fraud is generally defined as the intentional false representation or concealment of facts for the purpose of inducing another to act upon it to his or her injury.
A fraud audit is a detailed examination of the financial records of a business, with the intent of finding instances of fraud. A forensic audit is an examination and evaluation of an organization's or individual's financial records and information to derive evidence which can be used in a court of law or legal proceeding. A forensic audit is often conducted to prosecute an individual or organization for fraud, embezzlement, or other financial claims.
A Forensic Accountant combines his or her accounting knowledge with investigative skills in various litigation support and investigative accounting settings. Forensic Accountants, also known as Forensic Auditors or Investigative Auditors, often have to give "expert" evidence at a trial to help determine guilt or innocence.
Fraud And Forensic Accounting Training Courses
CPA Training Center offers several Forensic Accounting and Fraud Auditing training courses to help enhance your career!
To find your desired Forensic Accountant training courses, either select a Recommended Course from the list below, or "Forensics" from the "Professional Development" section of the search box at the bottom of this page.
---
Fraud Audit School
Fraud Audit School is designed to provide you with a thorough understanding of the types of fraud taking place in today's business environment, and the techniques you need to build effective fraud prevention and detection measures into your audit plan. In four intensive days you will learn fraud schemes typically found in organizations, the red flags of fraud, how to minimize fraud, the impact of internal controls on fraud, and the steps to investigating fraud should it strike your organization. You will learn a proven fraud audit methodology, and cover such high-risk areas as misappropriation of assets, financial statement fraud, and management fraud.
---
Advanced Fraud Audit School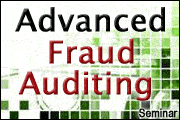 This course starts with the audit and concludes with you uncovering fraud in the classroom! In this case study-based four-day seminar you will work on two real life case studies and simulate every aspect of a fraud audit. You will start with the fraud risk identification by examining documents, using background reports to search for clues, researching vendor existence, and leveraging advance techniques to obtain information to corroborate your suspicions of fraud. The course material provides sample written reports, fraud risk structure documents, fraud web site listings, and many more reference tools used to research fraudulent activity.
---
Fundamentals Of Conducting An Internal Forensic Investigation
In this seminar, participants will learn how to conduct investigations using a systematic, logical, and comprehensive approach. The methodology followed can be applied to a wide variety of investigation types and organizations: internal and external, public/government or private sectors, large or small organizations. Through case studies and exercises, participants will practice the skills acquired and develop plans to conduct investigations, including the preparation of interrogation questions, the identification of relevant documents, proper documentation techniques, and reporting.
---
Forensic Certified Public Accountant Designation
The Forensic Certified Public Accountant designation tells the public and the business community that the holder has met certain testing and experience guidelines and is not only a CPA, but has been certified as a forensic accountant.
Find Forensic Accounting Training Courses Near You
To find your desired Forensic Accounting training courses, either select a Recommended Course from the list below, or "Fraud/Forensics" from the "Professional Development" section of the search box at the bottom of this page.