Become A Chartered Tax Professional!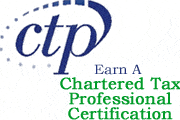 The Chartered Tax Professional (CTP) designation is the undisputed professional credential for persons who typically advise clients on income tax situations.
After completing this comprehensive program, certificants will be prepared to handle almost any individual and small business income tax situation encountered.

Recommended Courses & Available Training Options
Simply select the recommended course below, or search under "Licensing/Designations" in the search box thereafter for "CTP – Chartered Tax Professional".