Now Is The Time To Add College Funding Services To Your Business!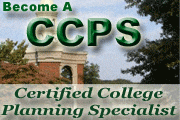 College funding/college planning is a definite lead generator for financial advisors and financial planners. There is a huge need for college funding services, but many advisors aren't properly informed on how to advise their clients in this arena.
Earning the Certified College Planning Specialist (CCPS) designation will teach you how to help families save thousands of dollars with college funding options.
About the Certified College Planning Specialist (CCPS) Designation
The Certified College Planning Specialist (CCPS) designation is the nation's first and only professional certification program for experienced financial planners and advisors who wish to assist families in reducing the financial impact of sending children to college.
The purpose of the Certified College Planning Specialist (CCPS) certification program is to provide designees with the knowledge and resources necessary to start and manage a successful college funding advisory practice. The CCPS certification is a symbol of knowledge, experience, expertise, and professionalism that will surely differentiate you from other financial advisors.
Requirements
Candidates must meet one of the following pre-qualifying criteria before entering the certification program:
Professional certification/designation (CFP, RFC, ChFC, CLU, CEP, CPA, etc.), or

Professional financial licensing (securities, insurance, any state financial license, etc.), or

A combination of education and experience deemed satisfactory by the NICCP Advisory Council
A CCPS certification comes up for renewal every year. To renew, a certificant must:
Not be in violation of the NICCP and CCPS?s Code of Ethics

Have completed 24 hours of approved continuing education courses

Be current on your NICCP membership dues. Note: Your NICCP membership dues includes the $395 CCPS certification renewal fee.
After your first FREE year, NICCP membership dues are $600 per year- (payable either monthly or annually)
---
Recommended Courses & Available Training Options
---
CPA Training Center offers the prestigious CCPS designation.
Simply select from the recommended courses below, or search under "Licensing/Designations" in the search box thereafter for "CCPS - Certified College Planning Specialist".