Become A Certified Financial Planner!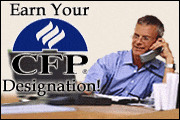 Are you searching for Certified Financial Planner (CFP) exam prep training? Then you've come to the right place!
CPATrainingCenter.com offers Certified Financial Planner training and certification courses for those individuals interested in earning the prestigious CFP designation.
The Certified Financial Planner (CFP) designation is the undisputed professional credential for persons who typically advise clients on a wide array of financial planning issues.
Whether you are new to the financial industry, or are an experienced financial planner, chances are you know about the prestigious CFP certification. With many Baby Boomers heading toward retirement, the need for personal financial planners is growing every day. Recognized as the highest standard in personal financial planning, earning the CFP mark will give you tremendous opportunities in your financial career.
Improve your daily practice:
Gain additional education and knowledge of all aspects of your customers financial planning needs

70% of CFP professionals say their CFP certification contributes directly to their success
Enhance your earning potential:
Studies show that the average annual increase in earning following CFP certification is 18%

Both solo and team CFP professional practices generate at least 40% more in revenue compared to other practices
Boost your value in the industry:
Instill greater confidence in your clients with the most recognized designation in personal financial planning

Careers in financial planning continue to grow, with more and more Americans pulling their finances together for the future