Become A Certified Management Accountant!
Searching for Certified Management Accountant (CMA) exam training? Then you've come to the right place!
CPATrainingCenter.com offers Certified Management Accountant training and certification courses for those individuals interested in earning the prestigious CMA designation.
The Certified Management Accountant (CMA) designation is the undisputed professional credential for persons in the field of management accounting and financial management. The CMA designation signifies that an individual working in this field has mastered a comprehensive body of knowledge directly related to operational and strategic management as well as the skills and abilities required to build quality business practices inside organizations.
Curriculum
Candidates for CMA certification must complete two examination parts to earn the designation:
Part 1 – Financial Planning, Performance and Control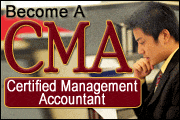 Planning, budgeting and forecasting

Performance management

Cost management

Internal controls

Professional ethics
Part 2 – Financial Decision Making
Financial statement analysis

Corporate finance

Decision analysis and risk management

Investment decisions

Professional ethics
Examination Requirements
The CMA consists of two exam parts. Both are 4 hours - 100 multiple choice questions and two 30-minute essay questions.
Exams are offered in the following windows:
January and February

May and June

September and October
Exams are administered in a computer-based format at local Prometric testing centers located throughout the U.S. and internationally. Contact Prometric at 800-266-3232 for more information or to schedule the exam. An additional exam fee applies.

Additional Requirements

To be eligible for CMA certification, candidates must fulfill all of the following requirements:
Membership in the Institute of Management Accountants (IMA)

A one-time certification entrance fee of $200

Bachelors Degree, in any area, from an accredited college or university

Two continuous years of professional experience in management accounting and/or financial management

Passing scores for all required examination parts

Compliance with the IMA Statement of Ethical Professional Practice
Continuing Education Requirements
Upon completion of both parts of the CMA exam, candidates are required to complete 30 hours of CPE annually, including a minimum of two hours in the area of ethics. Credit will be given for subjects relevant to a management accountant's or financial manager's career development and related to employer needs. Programs may be in the form of college courses, seminars, workshops, technical meetings, self-study packages, or on-line courses.
Recommended Courses & Available Training Options
CPATrainingCenter.com offers exam review courses and training for earning the CMA designation.
Simply select the recommended course below, or search under "Licensing/Designations" in the search box thereafter for "CMA - Certified Management Accountant".