Become A Certified Internal Auditor!
Searching for Certified Internal Auditor (CIA) exam training, or simply looking to learn more about Certified Internal Auditor qualifications to attain the certification? Then you've come to the right place!
CPA Training Center offers Certified Internal Auditor certification training courses and information on the qualifications for those individuals interested in earning the prestigious CIA certification.
The Certified Internal Auditor (CIA) certification is the undisputed professional credential for individuals whose primary responsibilities are focused upon internal auditing.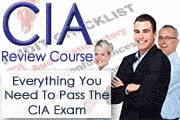 The CIA certification signifies that a designee has received advanced, professional education and business tools that are applicable to the internal audit field.
Curriculum
Candidates must pass an examination for four required courses to earn the CIA certification.
Required Courses
Part 1 - The Internal Audit Activity's Role in Governance, Risk, and Control

Part 2 – Conducting the Internal Audit Engagement

Part 3 – Business Analysis and Information Technology

Part 4 – Business Management Skills
Recommended Courses & Available Training Options
CPA Training Center offers exam review courses and training for earning the CIA designation.
Simply select the recommended course below, or search under "Licensing/Designations" in the search box thereafter for "CIA - Certified Internal Auditor".