Become A Certified Financial Planner!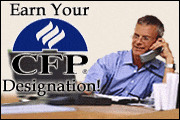 Are you searching for Certified Financial Planner (CFP) exam prep training? Then you've come to the right place!
CPATrainingCenter.com offers Certified Financial Planner training and certification courses for those individuals interested in earning the prestigious CFP designation.
The Certified Financial Planner (CFP) designation is the undisputed professional credential for persons who typically advise clients on a wide array of financial planning issues.
The CFP designation signifies that an individual working in this field has attained comprehensive knowledge of the following subjects: fundamentals of personal financial planning, insurance and employment benefits, investment planning, income tax planning, planning for retirement, estate planning.
Recommended Courses & Available Training Options
CPATrainingCenter.com offers the Live Review Courses to help candidates to pass the comprehensive CFP? Certification Examination.
Simply select from the recommended courses below, or search under "Licensing/Designations" in the search box thereafter for "CFP - Certified Financial Planner".
CFP Board-Registered Programs (6 modules) can be found on our sister site, ABTrainingCenter.com.