IT Audit School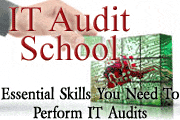 Seminar: ID# 1003291
About This Course:
This four-day course is designed for financial, operational, business, and IT auditors who need to update their technical and operational knowledge to audit information technologies and business application systems.
What Is IT Auditing?
IT auditing is distinguished from traditional auditing in that it specifically involves the auditing of automated information processing systems, as well as any related non-automated processes and any processes that connect the two. The typical goal of an IT audit is to make sure controls exist within the IT environment that work to ensure the company is in legal and regulatory compliance. Areas with IT controls that need to be evaluated include data integrity, security and control of corporate assets.
IT auditors also need to have an understanding of how to effectively report their findings to management and make recommendations based on their compliance and substantive testing.
How Do I Become An IT Auditor?
If you are seeking a position as an IT Auditor, you should obtain your bachelor's degree first. Unlike many types of auditors who tend to seek degrees in areas like finance or accounting, your pursuit of an IT auditor position may be best suited with a degree like Computer Information Systems or Information Technology.
Regardless of the major, students interested in IT auditing should take courses like business database design, business information systems development and enterprise process analysis and design. Adding business-related courses outside the major such as accounting, finance or general business principles can also be very useful.
Following your degree, you may wish to obtain work experience in the field by pursuing an internship with a company that has an IT auditing team. Most companies looking to hire an IT auditor will be looking for experience, so this can be an important aid to your position search.
Finally, although it is not required, you will probably want to eventually seek IT auditor certification. IT auditor certification options include Certified Information Systems Auditor (CISA), Certified Information Security Manager (CISM) and Certified Internal Auditor (CIA).
Why Do I Need An IT Auditor Training Course?
There is a great deal to know when it comes to the world of IT auditing, and the knowledge required is evolving constantly. The right IT Audit Training courses can keep you on top of your game and make you a greater asset to the company that employs you. It can also make you more appealing if you are seeking out a promotion or new employment.
Our IT Audit Training Seminar is a four-day intensive course, meaning you can take it while interning or working at your current position. The IT Audit Seminar covers a wide range of information that will be valuable to you as an auditor in the modern IT environment and can be an extremely useful resource.
About Our "IT Audit School Seminar"
Focusing on a top-down, risk-based approach to auditing application system transactions, you will master techniques you can apply to all types of applications from batch, to on-line, to real-time systems.
You will learn:
The concepts of information technology as they relate to key risks in the IT environment
Explore such IT areas as operating systems, database management systems, and networks
The IT audit concepts you need to know to effectively audit existing application systems
New systems under development
Mainframes
Distributed systems
You will leave this intensive seminar with a solid foundation in the basics of information technology as they apply to IT risks, audit, information security, and business application systems.
Bonus: You will receive a copy of MIS' Information Technology &Audit Acronym Dictionary, defining hundreds of IT terms and acronyms. and the MIS Applications Control Handbook.

Partial Agenda

Below are just a few of the areas covered in this course. Please click the "Agenda" tab at the top of this page to view the complete agenda.
Audit Objectives And Requirements
IT Basics
Planning The IT Audit
Auditing Standards
Network Technology And Controls
Database Technology And Controls
Infrastructure General Controls
Business Application Transactions
Top-Down Risk-Based Planning
Data Input And Processing Models
Application Controls
Learning Level
: Basic
Prerequisites
: None
Dates and Times
: Classes start on the date(s) posted herein, and run from 8:30am to 5pm daily, except for the last day of class, which ends at 3pm.
Continuing Education Credits:

Click the 'Credits' tab above for information on PHR/SPHR, PDCs, and other CE credits offered by taking this course.