Intermediate IT Audit School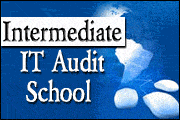 Seminar: ID# 1003578
About This Course:
From the EU Data Protection Act to Sarbanes-Oxley, recent regulations require organizations to ensure appropriate levels of protection for their critical information assets.
In this practical, four day seminar you will immerse yourself in a blended risk- and compliance-based approach to IT auditing that will ensure the confidentiality, integrity, and availability of your information assets throughout the enterprise.
Learning Objectives:
How to apply COBIT® and ISO-27002 as an overall framework for your IT audits
Identify authoritative sources for audit program requirements associated with major US and international government and industry legislation, standards, and frameworks, including SOX, HIPAA, GLBA, FFIEC, GAO/FISMA, PCI DSS, ITIL, OWASP
Determine risk and compliance levels in such critical management and technical areas of the IT environment as governance, information security, operating systems, database management systems, network infrastructure security, application software design and change controls, physical security, and business continuity planning
Each topic will be accompanied by summary checklists of key audit procedures and audit points, representing IT controls best practices. (Note: This seminar covers topics found in all chapters of the CISA Review Manual.)

Bonus:
You will receive the Standard Edition of the MIS Swiss Army Knife Reference listing hundreds of valuable information security and IT audit resources.

Prerequisite: IT Auditing and Controls, IT Audit School, or equivalent experience. Familiarity with basic IT controls terminology and concepts is assumed.

Learning Level: Intermediate

Dates & Times Classes start on the date(s) posted herein, and run from 8:30am to 5pm daily, except for the last day of class, which ends at 3pm.
Continuing Education Credits:

Click the 'Credits' tab above for information on PHR/SPHR, PDCs, and other CE credits offered by taking this course.