Information Security Boot Camp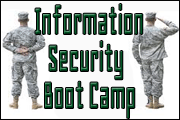 Seminar: ID# 1005030
About This Course:
This class will help information security practitioners prepare for the CISSP CBK exam, CISM, CISA, or other formal exams in information security or IT controls.
It is also relevant for audit staff who validate and verify core IT systems and risk-related personnel who rely on IT for maintaining corporate and customer systems.
By attending, you will learn aspects of the ISC2 Common Body of Knowledge (CBK) in conjunction with evaluating methods and tools required for essential elements needed to construct or audit a comprehensive information security framework.
Attendees will gain a business-oriented, architectural perspective that defines how to organize and oversee a risk-based enterprise information security program, blending both theories and best management practices with key physical and information technology safeguards.
To reinforce what you learn in the course and to aid anyone preparing for prominent information security certification examinations, attendees will be provided with unit and course review exercises.
Come prepared for five days of intensive learning and return to your office with the foundation of knowledge and know-how needed to take the CISSP exam (or similar), but even more importantly, to help guide your organization as it develops or revises its information security program.
Overview Of The Agenda
Below is a partial listing of this course's agenda. Please click the "Agenda" tab at the top of this page to view the complete agenda.
Branch And Representative Office Audits
Deposits And Deposit Taking
Information Security Concepts and Risk Management Practices
Laws and Standards Affecting Information Security and IT Audit
Security Models, Mechanisms, and Architectures
Network Security Concepts and Solutions
Identity Management / Access Controls
Software Development and Application Security
Asset Security (including Physical, Human Resources and Environment)
Availability (Data Recovery and Business Continuity Planning)
Learning Level:
Intermediate
Prerequisite:
IT Auditing and Controls, IT Audit School, or equivalent experience
Advance Preparation
: None