Auditing Business Application Systems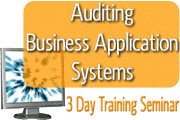 Seminar: ID# 1003294
About This Course:
This three-day seminar is designed for financial, operational, and information technology auditors who need a technical and operational understanding to audit automated business applications.
By attending, you will learn how to assess key risks and controls in each stage of the application processing cycle and how to prioritize your audit approach to achieve optimal results in an effective and efficient manner.
You also will discover how to assess all aspects of a business application, including completeness and accuracy of input, processing and output, transaction authorizations, processing flow balancing and reconciliations, and controlling high-risk interfaces.

You also will learn about IT general control risks and control objectives for critical aspects of the IT infrastructure. You also gain field-tested techniques for identifying, prioritizing, recording, assessing and evaluating application controls and procedures.

Partial Agenda

Below are just a few of the areas covered in this course. Please click the "Agenda" tab at the top of this page to view the complete agenda.
Determining The Audit Scope
Application Audit Planning
Application Risk Assessment
Evaluating And Documenting Internal Controls
Auditing Application Controls
Testing Application Controls
Bonus!
You will receive a copy of MIS' Information Technology & Audit Acronym Dictionary, defining hundreds of IT terms and acronyms, and the MIS Applications Control Handbook.
Who Should Attend?
IT, Financial, Operations and Business Applications Auditors; Audit Managers who require an understanding of application controls and audit approaches for business application systems.
Prerequisite:
IT Auditing and Controls
or equivalent experience
Learning Level:
Basic
Dates & Times:
Classes start on the date(s) posted herein, and run from 8:30am to 5pm daily, except for the last day of class, which ends at 3pm.
Order:
Auditing Business Application Systems
Price: $2,395.00
To order this product, find a location and date that is convenient for you under the "
Cities & Dates
" tab.