Audit Report Writing Boot Camp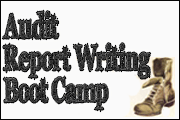 Seminar: ID# 1005025
About This Course:
This two-day seminar is comprised of the building blocks of writing that are essential in achieving results.
Attendees will learn to determine audience and purpose, mind mapping, building a transparent structure, cutting the clutter, making sentences make sense, parallel construction, efficient editing and active/passive voice.
You also will master topics specific to audit reports by evaluating audit report writing samples, creating an audit Issue and Recommendation (I&R), agreement with antecedents, proofreading your report, and effective emails.
Overview Of The Agenda
Below is an overview of this course's agenda. Please click the "Agenda" tab at the top of this page to view the complete agenda.
The Deming quality management concept as it applies to report writing
The five components of a well-written Finding and Recommendation
Writing to achieve results in audit reports
The six most common editing problems
The six most useful editing techniques
Common errors in an audit report
Bonus
:
Attendees receive The Gregg Reference Manual.
Learning Level: Basic
Prerequisite: None
Advance Preparation: None
Order:
Audit Report Writing Boot Camp
Price: $1,795.00
To order this product, find a location and date that is convenient for you under the "
Cities & Dates
" tab.