Audit And Security For Cloud-Based Services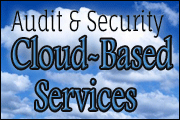 Seminar: ID# 1005024
About This Course:
In this two-day seminar, attendees will explore the current state of cloud computing and its common architecture, as well as examine the major SaaS, PaaS, and IaaS providers in the market today.
We will cover the security and control deficiencies that exist in cloud-based services and look at Security-as-a-Service as a way to protect against them.
We also will review a risk-based approach to audit and controls for cloud based-services and investigate such areas as cloud-based network models, cloud brokers, and disaster recovery and governance in a cloud-services environment.
Throughout the seminar, class exercises will reinforce what you learn and help you identify the risks, controls, and gaps in cloud services.
Partial Agenda
Below are just a few of the areas covered in this course. Please click the "Agenda" tab at the top of this page to view the complete agenda.
Application architectures
Host security in the cloud
Network security in the cloud
Virtualized security/firewalls
Key performance indicators
Audit trails for cloud-based services
Service level agreements
Licensing
Cloud-based risk analysis models: ENISA, NIST, CSA
Learning Level: Intermediate
Prerequisite: A working knowledge of operating system security, networking concepts and associated logical access controls, or equivalent experience
Advanced Preparation: None