Meet New IRS Requirements For Tax Preparers!
The Internal Revenue Service has announced (beginning with the 2011 tax season) new tax preparer requirements and regulations aimed at setting higher standards for income tax preparers.
Under the new tax preparer requirements, all tax preparers must register with the IRS (obtain a PTIN), pass a competency test, participate in ongoing continuing education, and comply with ethical standards.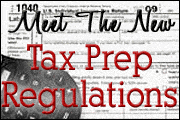 Prepare For IRS Competency Testing
If you are an unenrolled tax preparer (those who are not CPAs, Attorneys or Enrolled Agents), you will need to meet the new tax preparer requirements. These tax preparer regulations include passing a competency test for preparers of individual and business tax returns.
CPA Training Center offers the tax prep courses that will help you pass the IRS competency tests, Exam I and Exam II.
Recommended Tax Prep Courses & Available Training
To begin your tax preparer exam prep, simply select one of the recommended training options below, or search under "Professional Development" in the search box thereafter for "Tax Prep".