Need A Tax Preparer Certification Or An Income Tax Training Course?
Any of our income tax courses can help! The CPA Training Center offers several income tax preparer training courses to help grow your career as a tax return preparer!

What Are The Requirements To Be A Tax Preparer?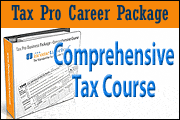 According to the IRS*, any tax professional with an IRS Preparer Tax Identification Number (PTIN) is authorized to prepare federal tax returns.

Tax professionals have differing levels of skills, education, and expertise, defined as "representation rights", as described below:
Unlimited Representation Rights:
Enrolled agents, certified public accountants, and attorneys have unlimited representation rights before the IRS. Tax professionals with these credentials may represent their clients on any matters including audits, payment/collection issues, and appeals.
Limited Representation Rights:
Some preparers without one of the above credentials have limited practice rights. They may only represent clients whose returns they prepared and signed, but only before revenue agents, customer service representatives, and similar IRS employees, including the Taxpayer Advocate Service. They cannot represent clients whose returns they did not prepare and they cannot represent clients regarding appeals or collection issues even if they did prepare the return in question.
Why Do Tax Prep?

Most individuals take Tax prep training courses to generate more business for them or their firm. Whether tax prep is the main or side focus of your business, it is an excellent way to generate more clients and prospects.

How Do I Become A Certified Tax Preparer? With Our Recommended Tax Preparer Certification Training Classes!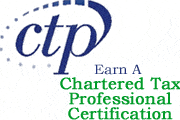 Take our recommended tax preparer certification course to differentiate yourself from those without a tax preparer certification, and you have a good chance of winning new clients with this great tax training course!
Online Tax Preparer Training Courses

The CPATrainingCenter.com offers several self-study income tax prep courses that you can take in the comfort of your home or office. Here are just a few of the things you will learn by taking one of tax return preparer courses:
Prepare most business and non-business individual tax returns

Pass the IRS Competency Exam

Perform a thorough interview with a taxpayer

Determine a taxpayer's filing status and eligibilty for exemptions

Accurately report income and deductions for a taxpayer

Determine a taxpayer's eligibility for credits and deductions

Compute income for Schedules C, E and F

Determine depreciation deductions and eligibility for Section 179

Accurately calculate a taxpayer's refund or balance due

Advise a taxpayer in tax planning strategies