Need Sarbanes-Oxley Training?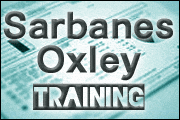 Are you seeking to learn more about the Sarbanes-Oxley Act? CPA Training Center provides Sarbanes-Oxley Act training and other SOX training information to help answer the questions, "What is Sarbanes-Oxley?" or "What are the Sarbanes-Oxley requirements?"
The Sarbanes-Oxley Act of 2002 (otherwise know as SOX) was legislation created to protect shareholders and the general public from unscrupulous corporate accounting practices, arising from the scandals such as Worldcom and Enron during this time.
The Act legislates Sarbanes-Oxley requirements, namely what financial records a company must store and for how long, and stipulates penalties for non-compliance.
So if you need to learn more about the Sarbanes-Oxley Act, let CPA Training Center help you with resources that outline all of the Sarbanes-Oxley requirements!
Recommended Sarbanes-Oxley Training Options
CPA Training Center offers Sarbanes-Oxley training courses for your career needs. And to fit your busy schedule, we offer several formats for SOX training, most offering CPE credit as well.
Simply search for "Sarbanes-Oxley Act" under the "Professional Development" section of the search box below.