The Right Way to Bring in New Business
By Michael Beck
Most of us are always working on bringing in new business, and in order to bring in new business, it almost always requires an investment. Typically, when we think of investing, we think of investing money. But the truth is that we have two types of assets to inves ... More



Publicity Marketing For Accountants and CPAs
By David Rachford
As CPAs and Accountants, we're often skeptical of the power of advertising. Admittedly, advertising is usually an afterthought, but marketing is something every firm needs to do. Marketing is the process identifying leads for potential clients. A great way of attra ... More



How To Build Year - Round Profit
By Chuck McCabe
Extreme seasonality has always been a challenge for tax practitioners. With over 90% of annual tax preparation revenue being realized in about 80 days, tax firms are in the same situation as many seasonal vacation resorts, and far worse off than most retailers. Pro ... More

CPAexcel 4-Part CPA Online Review Course
CPAexcel is the Leading Computer-Based CPA Exam Review Course. We deliver the knowledge and instructional expertise of top CPA Exam review course professors to CPA Exam candidates worldwide.

Year after year, CPAexcel students pass the exam at nearly twice the rate of all other exam candidates! In 2004, 2005, 2006 and the first quarter of 2007, the average pass rates were:

CPAexcel Students....84%

National average reported by the AICPA....43%

CPAexcel's Self Study Course contains everything you need to pass the exam while giving you the flexibility to study at your own pace, on your own schedule.

For more details or to order, go to http://www.cpatrainingcenter.com/showBUDetails.asp?TCID=1000132


If you would prefer to study for your CPA via video self-study,
go to http://www.cpatrainingcenter.com/showPADetails.asp?TCID=1004820.
Earn Your

Professional Bookkeeper Designation
Earn your Professional Bookkeeper (PB) designation, and master the principles of Full-Charge Bookkeeping while becoming proficient in the practical application of the accounting processes in small to mid-sized businesses!

This Professional Bookkeepers Home Study Course is presented in the following 4 modules:

Module 1 - Accounting Made Easy

Module 2 - Practical Small Business Applications

Module 3 — Advancing your 'Account-Ability'

Bonus Module — Building a Successful Accounting Service Contents

For more details or to order, go to: http://www.cpatrainingcenter.com/showPADetails.asp?TCID=1001957
Audio Review for the CFP® - 6 CD Set

Make more effective use of your drive time!
Prepare for the CFP Board Exam to and from work with our 6 CD-ROM Set Audio Reviews.

This Set is designed specifically for those preparing to sit for the CFP® Certification Exam.

Our Audio Reviews are ideal for students currently enrolled in a CFP Board-Registered Program, or for Challenge candidates. Order yours today!
... More Details / Purchase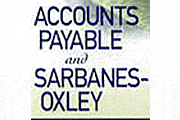 Accounts Payable and Sarbanes-Oxley
This course provides overall guidelines to help accounts payable departments conform to SOX including information on preventing fraud, proper documentation, and the overall principles to structure accounts payable so it will be indisputably compliant.



Other Books:
See More Books